Shuta HASUNUMA
THEATRE PRODUCTS
2011 S/S collection "Camouflage"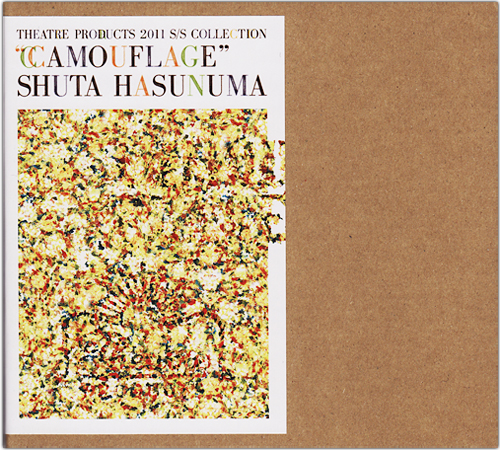 Shuta HASUNUMA
THEATRE PRODUCTS 2011 S/S collection "Camouflage"
¥1785/ 2011.4.27 on sale/ THEATRE MUSICA (MUSR-003)

Shuta Hasunuma is the one of the leading young artists in Japan whose performance is simply too divers to be expressed with a single genre. He coordinates live performances on an orchestral scale, mixes multi-media for audiovisual installations and on top of that organizes the podcast program "windandwindows". Besides those works, he is releasing a number of albums via an American label "Western Vinyl" and the Japanese label "HEADZ".

The limited edition album "Camouflage" he created for the Spring/Summer collection of THEATRE PRODUCTS 2011 is about to be released. It is a remix of the sounds from "Au Bordel - Souvenirs de Paris" published by WINTER&WINTER, a German avant-garde label for classical music. The way he precisely picks and electronically enhances elements while preserving the nostalgic feel of the original piece, marks him as an artist of extraordinary talent and sense for balance.
---
03 : Pigalle En Mai -Camouflage-
04 : A L'Alcazar -Camouflage-
05 : Valse de Melody -Camouflage-
---
[store]
gm projects webshop
HEADZ online
THEATRE PRODUCTS
graf
keibunsha-books
BEAMS RECORDS
spiral records
NADiff contemporary
NADiff apart
NADiff Aichi
NEWPORT
Toyota Municipal Museum of Art
vacant
gallery5
radi cafe apartment
ART ROCK NO.1
21st Century Museum of Contemporary Art, Kanazawa
madowaku-books
---
profile
Shuta HASUNUMA
Born in Tokyo,1983.
He has been releasing a number of albums mainly via HEADZ:『OK Bamboo』(2007)『POP OOGA』(2008) 『wannapunch!』(2010) . Works with Ryota Yagi, THEATRE PRODUCTS, Hideo Furukawa, Takehito Koganezawa, fai-fai and Ho Ho-Do. Organizes "windandwindows", "Ongaku kara Tondemiru" and "Shuta Hasunuma Philharmonic Orchestra."
http://www.shutahasunuma.com http://twitter.com/windandwindows